The NDA for Nvidia GTX 1080 coverage lifted today, resulting in many benchmarks and reviews of the card going online. Everyone seems impressed with Nvidia's newest flagship card – and, well, they should be.
In case you missed the details of the specs leaked in my Tech Tuesday column, the GTX 1080 is Nvidia's new flagship card releasing on May 27. It's on a smaller 16nm die, with 8GB of the new GDDR5X VRAM flaunting a whopping 10gbps of memory speed, and 2560 CUDA cores. Plus, it only uses 180W of power via a single 8-pin connector.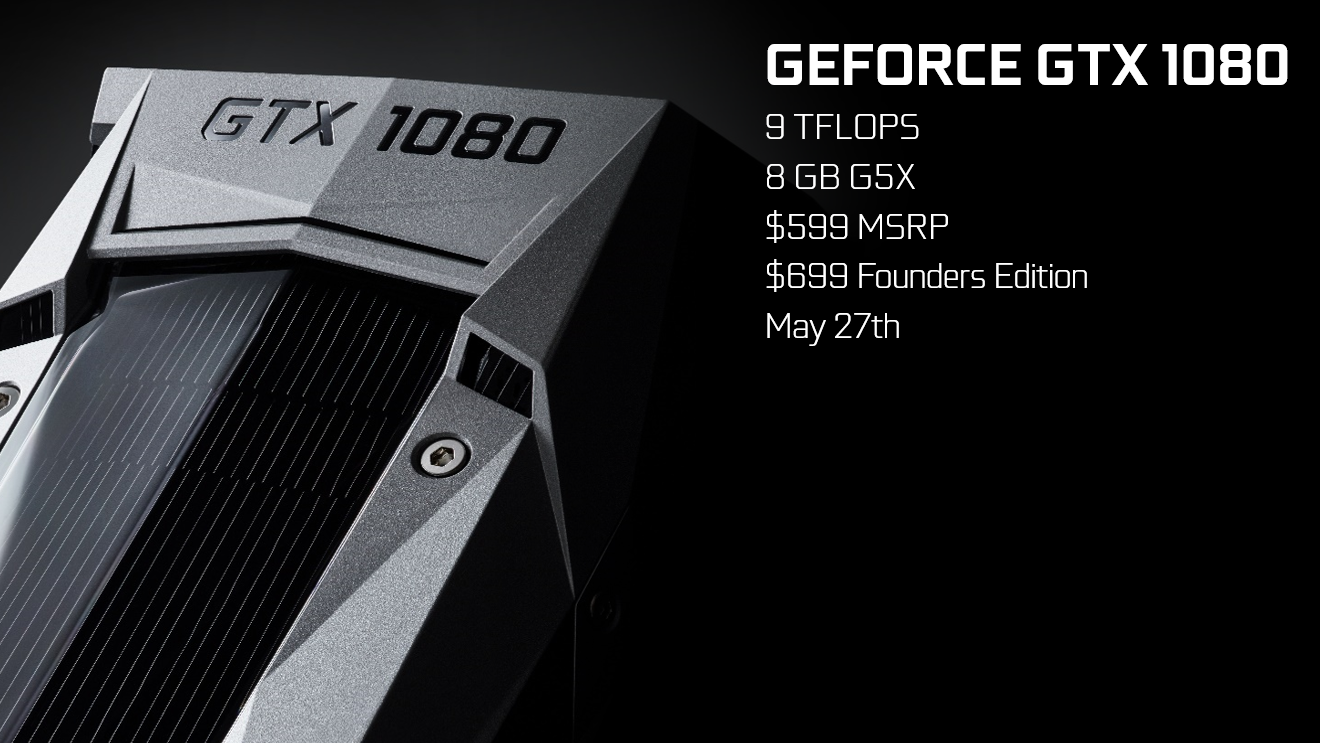 While there's probably no end to coverage of this new card, the review and benchmarks that I will be focusing on for the purposes of this article will be from Guru3D in a review by Hilbert Hagedoorn. Let's jump in, shall we?
Pricing
The GTX 1080 "Founders Edition" – the new branding for Nvidia's own reference model card – costs $699, but custom resellers will start pricing at just $599. However, with customized coolers, factory overclocking, etc. we may not actually see that kind of launch price from manufacturers. The $699 price tag is only a little higher than the current prices for the GTX 980ti, and a little more than half the cost of a full Titan X – both of which this new card blows out of the water, performance-wise.
This review ran the GTX 1080 through benchmarking tests for a variety of games at 1080p, 1440p, and 4k.
Performance
For those who like to glaze over things, the GTX 1080 performs about 25% faster than the Titan X and GTX 980ti in most scenarios across all resolutions. Which is pretty freaking fantastic. However, the gap in performance does decrease somewhat as you move into the higher resolutions for games.
For example, in DOOM (2016), running the game on Ultra at 1080p, the GTX 1080 averaged a whopping 176 frames per second, which is 35 more than the 141 fps of the Titan X and 980ti. That's a substantial increase, and one I'm quite jealous of as a GTX 970 user.
But if you jump up to UHD (3840×2160), there's only a 12 frame difference – though it is worth noting that those 12 frames let the game average out at 59 fps (almost a solid 60) versus 47 fps for the Titan X and 980ti. Not quite as big of a gain, but enough to almost bring the experience to a full "60 fps PC Master Race" level.
Even more excitingly, similar performance gains are found within The Witcher III, over dual 980 cards in SLI! Yes, the GTX 1080 performs 22% faster (105 fps vs 86 fps) than 2-way SLI-configured GTX 980s, and a couple more frames than that above the 980ti and Titan X. At UHD, the performance is a 20% increase with just 8 frames on average gained above the SLI configuration, but still a very impressive number to see.
Lastly, looking at 3DMark scores, the GTX 1080 scored 5142 in the Ultra HD benchmark, 9834 in the Extreme Benchmark and 19370 in the normal FireStrike benchmark. We see the same trend of the amount of gains over the 980ti decreasing as resolution increases.
All in all, it's clear that the GTX 1080 is a really fast card.
What do you think about the performance gains with the new GTX 1080? Are you as stoked for the card as I am? Leave a comment down below!
Thanks for checking out my summary of the Nvidia GTX 1080's first round of benchmarking and tests. The Founders Edition cards will start shipping on May 27th.
---
Want more tech content? Come check out my YouTube channel for more of my tech coverage! Thanks, Tetraverse!
– Adam // EposVox
EposVox
Producer-Editor, Tech Reviewer. I do a lot of stuff in a lot of places. You'll see my work. Video production, photography, gaming, copy-editing, web writing.
More Stories
×
Whelp, you all knew this was coming. https://www.youtube.com/watch?v=E_tGMjj63FE Dead Rising 4 trailer was revealed complete...